SIRE: V Blitz vom Klödener Riß SchH3 Kkl 1 ZB is a DDR/East German solid black imported male who came from Germany in August of this year by Troy of vom Sudhafen kennel.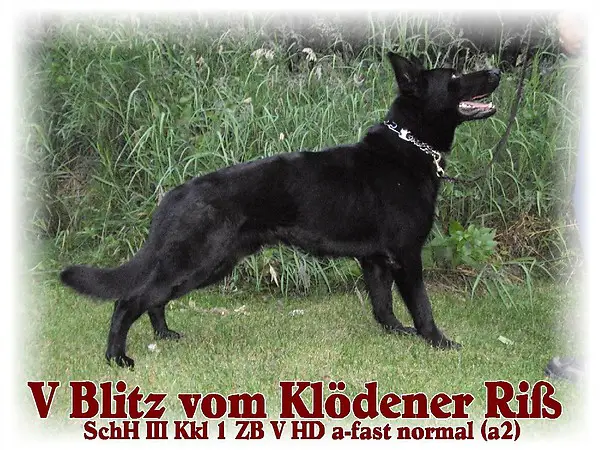 Blitz's Sire: V Brain vom der Sperlingsbucht
SchH3 (SG-LGA) FH2 IP3
Below is Brain's information off pedigree database.
English: Largely, strongly, Gepräge strongly, very good expression, front straight, good first option, somewhat flat Widerrist, back sufficient firmly, stresses stretched, very good rear spar and, Gangwerk expenditure-maturing far. Nature surely, UCB pronouncedly; discharge.
German: Groß, kräftig, Gepräge stark, sehr guter Ausdruck, Front gerade, gute Vorhand, etwas flacher Widerrist, Rücken genügend fest, betont gestreckt, sehr gute Hinterhand, weit ausgreifendes Gangwerk. Wesen sicher, TSB ausgeprägt; laßt ab.
WA 2002: Rücken fest.
(Brain's photo below)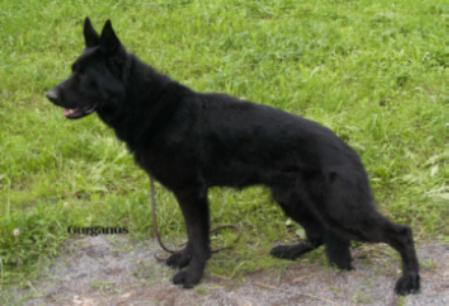 Blit's Grandsire;
V Tino vom Felsenschloß SchH3 (LGA) FH2 IPO3 Kkl 1
Tino has produced over 400 pups and has over 200 siblings.
(Tino's photo below)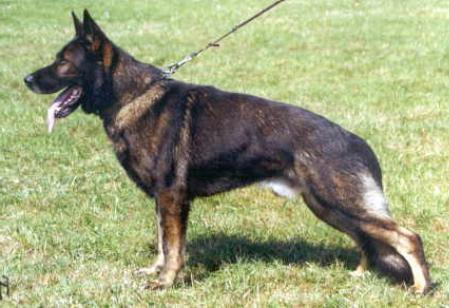 Blitz is also linebred 5 -5,5 on V Don vom RolandsteichSchH2/FH Kkl 1 Born : 25. September 1979